Advocacy
Need Help?
Director of Advocacy
614-545-9026
Oversees state & federal legislative efforts, payor & other stakeholder advocacy related issues
Identifies and communicates member capacity to deliver quality
Works with Communications Committee to advance quality message
Staff liaison to Advocacy Committee
Policy Matters
Directors Sears, Laubert, Governor's Office Take "Technology Tour" of Maple Knoll Communities
On Friday, June 22, Maple Knoll Village hosted staff of the Ohio Department of Aging, the Ohio Department of Medicaid and the Governor's office on a tour of its campus highlighting its culture of innovation as well as its partnership with the University of Cincinnati. In attendance were Beverly Laubert, Director of the Ohio Department of Aging, Barbara Sears, Director of the Ohio Department of Medicaid, and Kelly Reidenbach, Assistant Policy Director for the Governor's office, as well as other leadership from the Administration, LeadingAge Ohio and Maple Knoll Communities. Highlights of the tour included:
Learning about Maple Knoll's award-winning Structured Interdisciplinary Bedside Rounds (SIBR) program, which has dramatically decreased hospitalizations, with zero turnover in rounding positions;
A tour of its prototype "smart house" in which Directors Sears and Laubert had the opportunity to meet with the UC College of Nursing's researchers, as well as UC engineering students and even operate a care robot;
Plans for a new "Servus Hub," a partnership between Maple Knoll Communities and RoundTower, which will be a testing ground for Maple Knoll residents to shape new products and innovations being brought to market.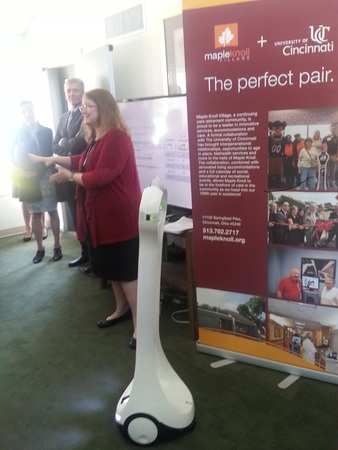 "We are grateful to have had the opportunity to host a visit for those agencies that can have a direct impact on the way we care for seniors in the state of Ohio," said Tim McGowan, Executive Vice President of Operations at Maple Knoll Communities. "I am hopeful that Friday's visit will open the doors necessary for some collaborations with the Department of Medicaid, the Ohio Department of Aging, the Governor's office, and the UC Colleges of Nursing and Engineering. Working together, I am confident that we can conduct research that will advance the quality of life for seniors in all settings!"
LeadingAge Ohio delights in opportunities to showcase our members' leadership within their communities and contributions to the field of aging services. If you have an innovative practice, approach or model that warrants sharing, contact Susan Wallace at swallace@leadingageohio.org.
Senator Dolan Visits Eliza Jennings
June 13, 2018-- Last week, Senator Matt Dolan of Chagrin Falls joined the leadership team at Eliza Jennings for a conversation and tour of their Renaissance Retirement Campus. Rich Boyson, President/CEO of Eliza Jennings, led a conversation which touched on workforce challenges faced by long-term care providers, while Susan Wallace, Director of Public Affairs at LeadingAge Ohio addressed challenges and opportunities for continuum-based providers in managed care environments. Also joining the conversation were Sandy Skerda, Executive Director, Kimberly Eiting, Administrator and Diane Banning, Independent Living Sales Manager.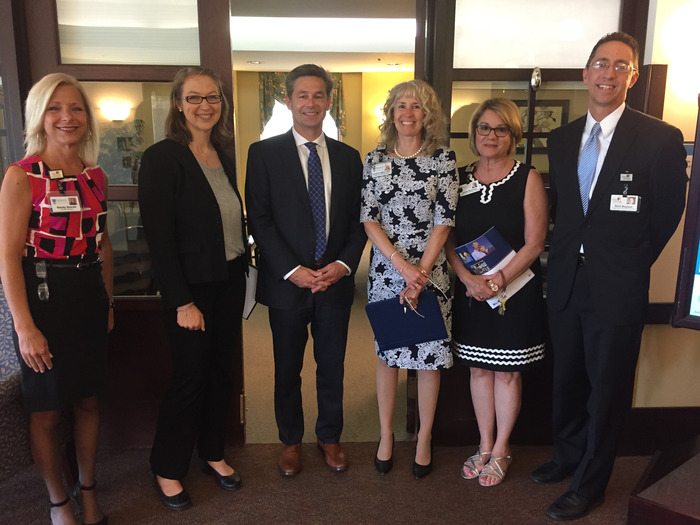 "Senator Dolan has a deep understanding of staffing issues, including the importance of attracting and retaining exceptional, dedicated people," said Eliza Jennings President and CEO Rich Boyson. "He is genuinely interested in listening to our concerns and discussing workable solutions."
LeadingAge Ohio encourages members interested in hosting their legislators over the summer recess to reach out to Susan Wallace at swallace@leadingageohio.org.
Smith Sworn in as Speaker
June 12, 2018-- Last week, the Ohio House of Representatives elected Representative Ryan Smith (R-Gallipolis) as the 103rd Speaker to fulfill the unexpired term of former Speaker Cliff Rosenberger (R-Clarksville), who resigned last month due to an FBI investigation. The House cancelled previous sessions to elect a replacement Speaker over the past few weeks due to a lack of 50 republican votes for any one candidate. Under House rules, if a candidate for Speaker does not receive a majority of votes (with only 91 members present a candidate needed 46 votes), then the candidate with the plurality of votes after the 10th ballot is elected Speaker. On the 11th ballot Representative Ryan Smith received 44 votes, Representative Fred Strahorn (D-Dayton) received 27, Representative Andy Thompson (R-Marietta) received 13 and Representative Jim Hughes (R-Columbus) received 7 votes. Representative Smith was immediately sworn in by Justice Fischer in the House Chamber with his family present.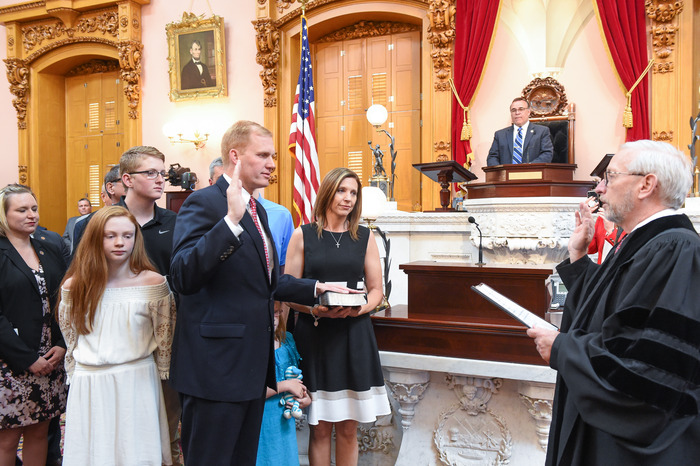 Since the House has continued to hold Committee hearings during this interim period, there are over 140 bills waiting to be voted on by the Ohio House. Speaker Ryan announced yesterday the House would cancel its "if needed" Session dates for next week, but would be having Session on June 20 and 27 to continue the work of the Ohio House. Moreover, he stated that there would not be any changes to the current majority leadership team or Committee structure.
With the upcoming general election and end of the current 132nd General Assembly on December 31st, the Ohio House will have to vote on a Speaker for the next General Assembly. Current Speaker Ryan Smith is running against former Speaker Larry Householder (R- Perry), who previously served as Speaker from 2001-2004. Representative Householder returned to the Ohio House as a freshman this current GA, and has 3 more terms (6 years) to serve, while Representative Smith has one more term (2 years) to serve in the House. Due to term limits there are approximately 20 open seats in the current majority caucus, so the outcome of those races could have an impact on the selection of the next Speaker.
Romanchuk Honored as Aging Services Advocate

On September 14, Ohio Representative Mark Romanchuk was honored with the Public Service Award from LeadingAge Ohio. The award was presented during a LeadingAge Ohio General Session as part of the LeadingAge Ohio 2017 Annual Conference and Trade Show. The award recognizes a public leader who has performed extraordinary service to older Ohioans by positively influencing the field of senior care and services.
Representative Romanchuk, who represents Ohio's Second House District located in Richland County, has committed significant time and energy to advocating on behalf of older adults and the community organizations that serve them.
Representative Romanchuk has been a steadfast supporter of a statewide initiative focused on long term care financing and has demonstrated a clear recognition of workforce challenges that uniquely affect senior service providers. Additionally, as chair of the House Finance Subcommittee on Health and Human Services, he helped to mitigate cuts to Medicaid reimbursement for nursing homes proposed in this year's budget process.
The Public Service Award is not granted annually, but rather only when an aging advocate distinguishes themselves in their advocacy for the needs of older Ohioans.
"I am humbled and honored to receive this award," said Representative Romanchuk. "LeadingAge Ohio has been at the forefront of addressing the challenges facing the long-term care needs of our senior citizens and advocating for solutions for many years. It has been my privilege to join them in their critical work and I look forward to continuing to work with them in the future."
"LeadingAge Ohio is grateful for Representative Romanchuk's leadership and advocacy for older Ohioans," said Kathryn Brod, President and CEO of LeadingAge Ohio. "We are at a critical turning point in Ohio's aging demographic, and informed, committed public servants such as Mark Romanchuk are critical partners in ensuring we can meet the coming challenges."
Ohio's Biennium Budget

Ohio's FY2018-2019 budget has been one for the record books LeadingAge Ohio has worked tirelessly through this budget season to ensure its members' voices are heard, and the vulnerable citizens in their care are maintained at the forefront of our legislators' minds. To review previous communications on the Ohio budget process, click the following links:
LeadingAge Ohio has been successful on multiple fronts, including preserving the $100 million for nursing homes included in the House version of the budget, and introducing an exclusion which eliminates barriers to antipsychotic use near end of life for nursing home-residing hospice patients.
If you have a question about the budget or about grassroots advocacy, contact Nisha Hammel, Director of Advocacy, at nhammel@leadingageohio.org.